We are sold out, but sign up to be on our waitlist below!
Available:  April 7 – 9, 2024  Join us for this exclusive opportunity to witness a magnificent celestial show in Vermont's beautiful Green Mountains.  Early April in Vermont is also typically the tail end of our maple sugaring season and many local sugarhouses may still be producing Vermont's "Liquid Gold" during your visit.   This package will include deluxe accommodations, wonderful meals and a private hillside viewing area for this spectacular event.
Sunday, April 7, 2024
Today we arrive in the Green Mountains of Vermont where we prepare to take in the fabulous total solar eclipse forecasted to pass over Saint Albans, Vermont and forecasted to be one of the longest viewing times in the Northeast.  Accommodations are included in Shelburne, Vermont for the next two nights.  A delicious dinner will be included this evening at a popular, local restaurant.  (D)
Monday, April 8, 2024
Breakfast is included at your hotel this morning.  Following breakfast, we join our knowledgeable local guide for a morning of touring aboard our private motorcoach before the mid-afternoon Eclipse.  Our first stop takes us to the Morse Sugar Farm for a maple sugaring presentation followed by a traditional Sugar on Snow.    We board the coach for Montpelier, Vermont's capital city where you will have time to enjoy lunch and shopping on your own.  After lunch we travel to Saint Albans Bay Park located on the shores of Lake Champlain.  Seating for the eclipse will be provided.  You may want to pack a blanket as the weather in Vermont can be fickle.  Enjoy the total solar eclipse predicted to last three minutes and 28 seconds!!  Our next stop brings us to historic Church Street in Burlington the historic Church Street Marketplace in Burlington where you will have time for shopping and dinner on your own.  We return to the hotel.  (B,)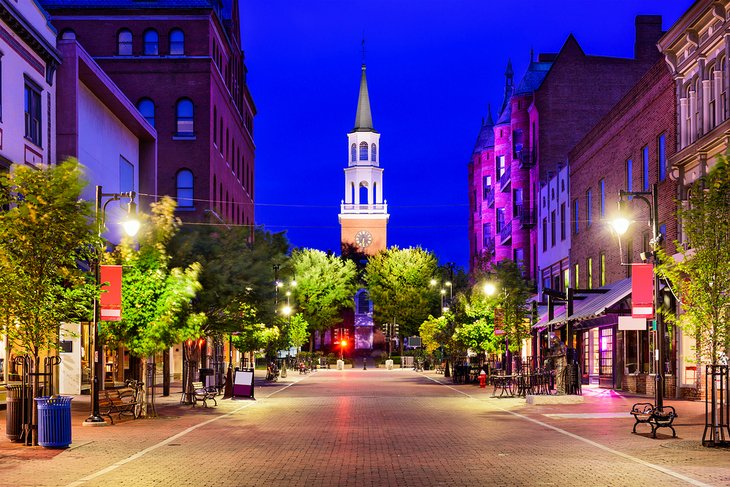 Tuesday, April 9, 2024
Breakfast is included at your hotel this morning.  Following breakfast, say good-bye to Vermont and begin your journey home with fond memories of the rare total Solar Eclipse.  (B)
Inclusions:
Two nights accommodations at:   Holiday Inn Express – South Burlington, Vermont
One dinner
Two breakfasts
Visit to Morse Farm Maple Sugarworks
Visit to Montpelier, the state Capitol of Vermont
Visit to Historic Church Street – Burlington, Vermont
Seating for the Eclipse
Afternoon snacks during the Eclipse
Local Guide service
Motorcoach Transportation while at the program Tax and service charges
Price per Person
Single Occupancy          $515.00 per person
Double Occupancy        $455.00 per person
Triple Occupancy           $405.00 per person
$100.00 deposit per room required at booking.  Final payment due 30 days prior to departure.  Cancellations received within 30 days prior to arrival subject to full forfeiture.
Call Chris Donnelly at 802-579-8687 or email at vttours@sover.net
Call Brenda Handy at 802-464-9740 or email at sugartours3@hotmail.com